C&J Medals pride themselves on being able to give one to one personal service. Over the years their philosophy has been a simple one towards the product of their skilled work. "It is to turn out a job to the standard you would expect to get yourself."
Through their 36 years in business C & J's have undertaken commissions from some very famous people. These include:
Chief Whip of the House of Lords

The Lord Mayor of London
Mike Yarwood
The Late Douglas Bader
The Governor of the Bank of England
HM Ambassador For Gabon, West Africa
The Late Lord Westbury & Dowager Lady Westbury
The Director General Of Fair Trading
The City Marshal to the Lord Mayor of the City of London
Floella Benjamin
C & J's provide medals, ribbons and accoutrements to uniforms for the film and stage. Recent commissions have included: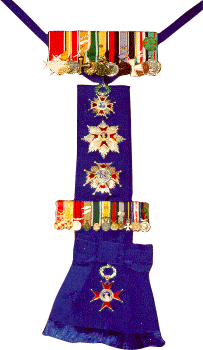 Granada Television
Medal ribbons for James Bond naval uniforms & uniforms for supporting cast members of several Bond Movies.
Ribbons and neck decoration for "Del Boy" David Jason in "Only fools and Horses"
Orders, Decorations and medals for all the principle actors in the movie "King Ralph"
Cap badges and uniforms for "Wild Geese" & "Wild Geese II"
Medals for ITV "ULTIMATED FORCE"
Medals for BBC Eastenders
Orders, Decorations & Medals for movie "Loves Labours Lost"
Recent commissions for principle museums include:
Garter Order Sashes for an exhibition at the Guards Museum, Wellington Barracks London.
Order sashes and breast star for an exhibition of the Duke of Connaught at Belvor Castle. Statley home of the Duke of Rutland.
Medal cases for The Berkshire Yeomanry Museam - Windsor.
---