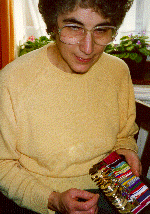 Christine, a senior partner in C&J's from its conception, is self-taught in military and civilian tailoring. She has always been very talented in all needlecraft, combining this with successfully raising a family of 3 daughters.
Whilst sharing all C&J's commissions and contract work with Husband John, she is also the Company's bookkeeper and secretary.
Christine held the contract for the Chelsea Pensioners for 36 consecutive years.
She also makes Order Sashes for both ladies and gentlemen.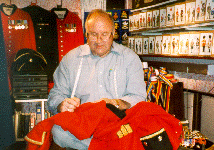 John learnt his trade as a tailor in the Army - Grenadier Guards - having joined at 14 and served for 25 years, retiring at the age of 40 as the senior Master Tailor in the Army. The last 15 years were spent at Wellington barracks in London as the Master Tailor and Ceremonial Tailor to the Household.
In his capacity as master tailor, John attended occasions such as:
The wedding of HRH the Princess Anne
The Queens Jubilee
The funeral of Lord Louis Mountbatten
The wedding of HRH Prince Charles and Lady Diana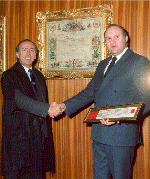 On retirement from the Army, John joined the Ministry of Defence Quality Assurance Directorate for Stores & Clothing and was the officer responsible for all ceremonial clothing and tri service badges. He finished with the MOD as Project Manager for "Combat Soldier'95".
John was made a Freeman of the City of London in 1984. He is a member of the Honourable Artillery Company and was the Honoury secretary of the Grenadier Guards Association for 25 years. He is now a vice-President of the Reading and District Branch. He is also a member of the British Legion.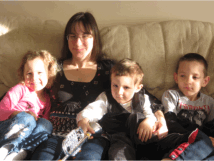 Amanda married with three children runs the Admin at C&J Medals and will eventually take over from Mum & Dad. A holder or BSc Hons. From Bournemouth University Amanda has grown up with the Company and there is very little she does not know about medals or allied items.
---